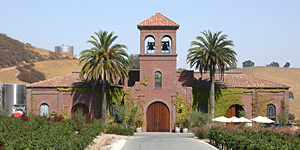 Pietra Santa Winery, Hollister, California
Allied Engineers designed, and then supervised the installation, of a small system to treat winery wastewater at the Pietra Santa winery in Hollister, California.
The 12,000 square foot winery produces 2200 barrels of wine each year from grapes grown on 120 acres of vineyard in the Gabilan Mountains, 25 miles east of Monterey Bay.
Far Niente Winery, Napa Valley, California
The gravelly loam of the Napa Valley is better suited to growing wine grapes than hosting a solar power facility. That's why Far Niente Winery decided to build their solar facility above an existing wastewater treatment pond. Allied evaluated the impact of the solar system on the treatment process.
Greenville Industrial Park, Alameda County, California
Planned a 0.12 mgd system to reclaim all wastewater generated by a proposed 280 acre light industrial park located east of the City of Livermore. Reclaimed effluent evaluated for use as irrigation water for common-areas and open space.
Huls America, Pleasanton, California
Developed a pretreatment concept for a paint pigment manufacturer located in the City of Pleasanton. Allowed manufacturing operation to remain in existing location by improving waste discharge to quality acceptable to the local sewer agency.